Thank you for joining us in National Harbor!
Annual Session General Information
Join us in National Harbor in September for two days of riveting education and networking.  Our speakers are well known and have wide-reaching influence in the industry.  From the fly-in on Thursday to the recess on Saturday, whether you are in an educational session, the exhibit hall, the Residents' Forum, or at a networking reception, you will find opportunities to connect with each other and to learn valuable information to take back to your offices and clinics.
Continuing Education Credits
The Great Lakes Association of Orthodontists (GLAO) and the Middle Atlantic Society of Orthodontists (MASO) are ADA CERP recognized providers approved by the American Association of Orthodontists. ADA CERP is a service of the American Dental Association to assist dental professionals in identifying quality providers of continuing dental education. ADA CERP does not approve or endorse individual courses or instructors, nor does it imply acceptance of credit hours by boards of dentistry. GLAO and MASO designate this activity for up to 7.0 hours of continuing education (CE) credits for doctors and for staff.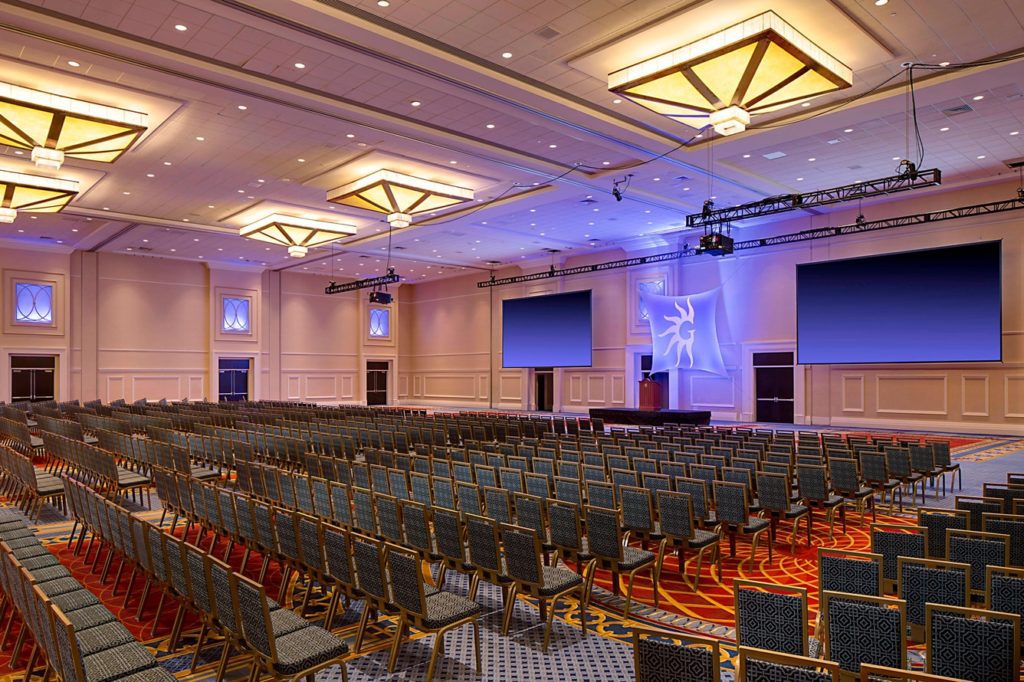 Thursday 9/21 - GLAO and MASO Board Meetings, Golf Outing, Fun Run/Walk, Exhibit Set-up
Friday 9/22 - Continuing Education, Exhibits, Residents' Forum, MASO and GLAO Business Meetings, Social Event
Saturday 9/23 - Continuing Education, Exhibits, Educators Meeting
Attendees who arrive before Noon on Thursday, or guests
who have the time on Friday and Saturday, have many options
available to them to tour DC and the surrounding area. The
Water Taxis from the National Harbor offer routes connecting
to Old Town Alexandria and Georgetown. Or, visit the MGM
National Harbor for table games and slot machines. Local
tours, booked at the Gaylord Concierge Desk include an Old
Town Trolley Tour, and a Monuments by Moonlight Tour.
Make Your Room Reservations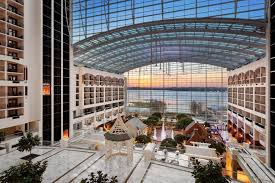 Gaylord National Resort & Convention Center
201 Waterfront Street, National Harbor, Maryland, USA, 20745
Standing on the banks of the Potomac River, Gaylord National Resort welcomes guests to an upscale experience in the heart of National Harbor, Maryland. Located minutes from Washington, D.C. and Old Town Alexandria, the resort is just steps away from the restaurants and entertainment of National Harbor. With newly renovated guest rooms and suites, a 19-story indoor garden Atrium, a premier steakhouse, an award-winning spa, and a rooftop lounge - it is the ideal getaway. Gaylord National is the ultimate destination for GLAO-MASO Annual Session attendees.
Make your hotel reservations at the host hotel, Gaylord National Resort and Conference Center. To receive the discounted group rate, make your reservation online through the GLAO/MASO room block personalized group reservation site or by calling 877-382-7299 and reference the GLAO/MASO Annual Session. The group rate for single/double occupancy is $229/night plus tax. These discounted rates will be offered, based upon availability, 3 days before and 3 days after the conference dates. When reserving through the GLAO/MASO room block, guests will pay a discounted daily resort fee of $22. The discounted group rates are available only until September 6, 2023 or until the room block is full!
The daily resort fee at the Gaylord National Resort and Conference Center includes the following: Sunrise Yoga; Resort-wide Internet access; Twenty-four hour access to the Fitness Center; Access to the indoor Junior Olympic-sized pool; Two bottles of Aquafina® water in-room; Complimentary transportation on the National Harbor Circulator Bus; Complimentary cookie or fruit at Potomac District Cafe & Market; Welcome drink for 2 people at Harbor Social; Up to 20 B&W photo copies at FedEx.
The Gaylord National Resort and Conference Center is easily accessible to most members in the GLAO and MASO region. It is 6.9 miles from Ronald Reagan Washington National Airport (DCA), 32.3 miles from Washington Dulles International Airport (IAD), and 42 miles from Baltimore/Washington International Thurgood Marshall Airport (BWI). The resort does not offer an airport shuttle service to nearby airports. Guests may arrange for taxi or car ride app services. Self-parking is available at a discounted rate of $15 per night.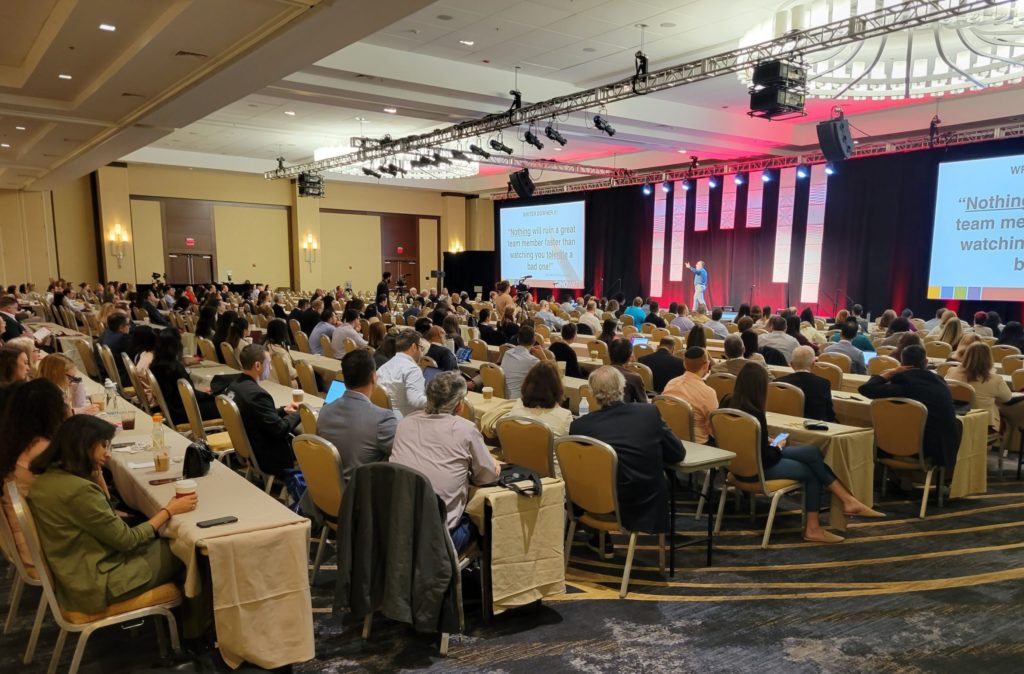 The 2023 GLAO-MASO Annual Session kicks off with a top leader to top leader presentation by the AAO with strategic updates on the Consumer Awareness Program (CAP), the professional advocacy strategy, and programs to support members and innovators in the specialty.
Keeping with the theme, "Capitalizing on Emerging Technologies," Dr. Hera Kim-Berman will follow with a presentation on "Emerging Technology Trends that will Shape Orthodontics in 2023 and Beyond." And you won't want to miss the presentations on software and artificial intelligence, making in-house aligners and fully customized brackets, and key criteria for incorporating technology into daily life.
Thank you for your interest in exhibiting at the GLAO/MASO Annual Session! At this time, our exhibit space is full. You are welcome to support our Annual Session as a "Partner" sponsor. For a $2,500 sponsorship investment, your company will be recognized as sponsoring a beverage break and your company will be listed in our promotions, signage and meeting app as a Partner. In addition, we can put out your company promotional materials during the sponsored beverage break and you will receive the list of attendees. If you are interested in supporting our meeting as a Partner sponsor, please contact us at GLAO@AssnOffices.com. Please save the date for our GLAO/MASO 2024 Annual Session to be held in St. Thomas, USVI, 10/17-20/2024. Thank you!
3M Oral Care
AAOIC - American Association of Orthodontists Insurance Company
Allure Ortho
American Orthodontics


Angel Aligner

ClearCorrect

Cloud 9

DentalMonitoring
Digital Healthcare Professionals

Dolphin Imaging & Management Solutions 
DynaFlex
EPAX Dental
Evolution by New Horizons Software

Forestadent

Four Quadrants Advisory

Gaidge
GC Orthodontics Inc.
Great Lakes Dental Technologies
Henry Schein Orthodontics

HIP Creative
Illusion Aligners

Large Practice Sales (LPS)
LightForce Orthodontics
NEOLab
Neon Canvas
Ormco

Ortho2
OrthoFi
OrthoFX
Orthopli Corporation

OrthoSelect, LLC
Reliance Orthodontic Products, Inc
Sesame Communications
Smile for a Lifetime

Strategic Tax Planning
SureSmile
TP Orthodontics, Inc.

Trapezio
uLab Systems
Weave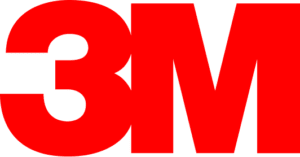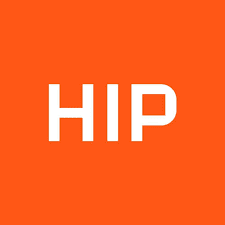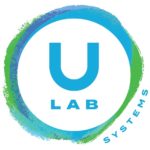 An outstanding two-day program for your entire orthodontic team will focus on emerging technologies and improving your practice! Save the dates and plan to join us!