everything you need to know
About The Program
Program Schedule
8:00 AM – 9:00 AM

Registration & Continental Breakfast
"From Brackets to Complementary Intelligence: The Contemporary Pathway for Orthodontists"

Artificial intelligence (AI), also referred to as complementary or augmented intelligence has infiltrated various aspects of orthodontic diagnosis and treatment. Where do evidence and practice intersect with AI in diagnostics and treatment? Advances range from designing and placing the individual bracket to moving teeth with preplanned appliances, visible and "invisible" (lingual appliances and clear aligners), but could we predict outliers to central tendencies established through repeated research?

Contemporary orthodontic practice has buried many methods and techniques that were "advanced" ways decades ago, mainly because of technological strives in imaging and robotic designs. Yet, biological knowledge has not impacted treatment rationale and speed. In this bipolarity, even prediction models have not been accurate enough to be generalizable across malocclusions and populations.

Let's explore the contemporary pathway to serve our patients in this dynamic yet imperfect reality, while the basic tenets of treatment remain anchorage control and physiologic forces, and while we still need compliance and growth to be our allies in the younger patient, and anatomy to be less resistant to our efforts in the older patient. This tour will include clinical reports and research updates.

Course Objectives:

Define the role of artificial or complementary intelligence in advancing orthodontic diagnostics.

Recognize the potential deviation of individual response to similar treatments from the average response identified in research (e.g. Class II and Class III malocclusions).
Identify and prioritize the gaps in practice in need of more developed clinical and biological knowledge.

Attendees will be able to:

Recognize the importance of interactive intelligence in the provision of faster if not more accurate diagnosis.
Understand the interaction between developed protocols and individual variation.
Recognize the limitation of present technology in overcoming individual anatomical and biological (e.g. more controlled or faster tooth movement vs less visible appliances).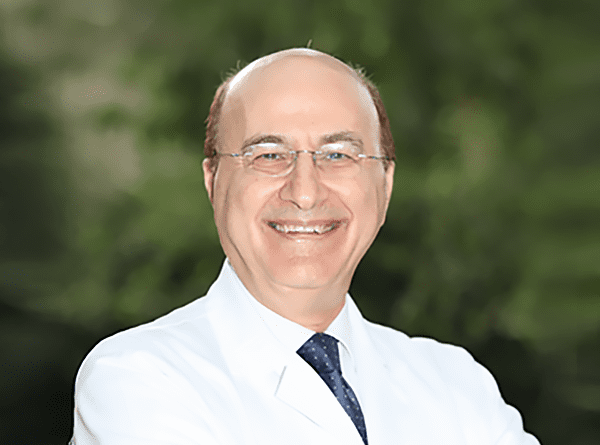 Joseph G. Ghafari, DMD
Dr. Ghafari earned dental degrees from the Université Saint Joseph, Beirut, Lebanon, and the University of Pennsylvania School of Dental Medicine, and orthodontic education at the Harvard School of Dental Medicine/Forsyth Dental Center. He rose to the rank of Professor at the University of Pennsylvania. He is Professor and Founding Head of the Division of Orthodontics and Dentofacial Orthopedics and the Department of Dentofacial Medicine at the Faculty of Medicine of the American University of Beirut, and Adjunct Professor of Orthodontics at the University of Pennsylvania. He also founded the postgraduate orthodontic program at the Lebanese University dental school. Among a rich array of research projects, Dr. Ghafari was the Principal Investigator of a prospective clinical trial supported by the National Institute of Dental and Craniofacial Research, in which alternative approaches are compared in the early treatment of Class II, Division 1 malocclusion. This field remains a centerpiece of his research activities, expanding into component analysis of this and other malocclusions (notably Class III), the development of which was linked to functional problems in childhood. The outcomes of these investigations relate to diagnosis, timing and assessment of treatment, and the recognition of various phenotypes within the same malocclusion type that respond differently to treatment. In addition to the clinical track, Dr. Ghafari has been involved in biological research through a range of projects related to anatomy and molecular biology including genetic studies (e.g. identification of candidate genes for mandibular macrognathism and retrognathism and for hypodontia) and projects on stem cells related to bone and cartilage. In another track focusing on tooth movement, Dr. Ghafari and his co-workers employed advanced schemes using finite element modeling and analysis of various orthodontic modalities that may not be investigated directly in the mouth. He developed this line of research to include, for the first time, the assessment of individual variation derived from human cadaver material properties. Also, in a series of epidemiological studies, Dr. Ghafari and associates have demonstrated the perception of oral health as part of total health by parents of various socioeconomic backgrounds. Investigations on malocclusion indices yielded practical recommendations for epidemiologic assessment and quality assurance. In all the above tracks, Dr. Ghafari has promoted interdisciplinary and interprofessional research, namely with basic medical sciences, engineering, public health, nutrition, and psychology. Most of Dr. Ghafari's numerous (over 100) publications report primary research data in American and international journals and books chapters; he is also the co-author of the book Orthodontics at Crossroads. Dr. Ghafari is the proponent and former Editor of Short Communications of the American Journal of Orthodontics and Dentofacial Orthopedics. He is a member of the Editorial Board of the Journal of the American Dental Association, the Editorial Director of this journal's Middle East Edition, and on the Editorial Board of Seminars in Orthodontics. Dr. Ghafari is a Diplomate of the American Board of Orthodontics and a member of many national and international associations, including the American Association of Orthodontists, The Edward H. Angle Society of Orthodontists (Eastern Component), and fellowship in the American and International Colleges of Dentists. He served as President of the Craniofacial Biology Group of the International Association for Dental Research, President of the Greater Philadelphia Society of Orthodontists, President of the Harvard Society for the Advancement of Orthodontics, and he is the founding President of the Lebanese section of the IADR, the Lebanon Association for Dentofacial Research. Dr. Ghafari received academic and professional recognitions from various organizations and institutions, including an honorary MA degree and the Earl Banks Hoyt Award from the University of Pennsylvania, the Vincent De Angelis Award from the Harvard Society for the Advancement of Orthodontics, and the Brainerd F. Swain Award of Excellence from the Edward Angle Society, Eastern Component.
Your registration includes: All-day lectures, Continental Breakfast, Lunch Buffet, & All day beverage station.
| | Early Bird Rate | Regular Rate | Onsite |
| --- | --- | --- | --- |
| | Before Feb 24 | After Feb 24 | |
| AAO Member | $320 | $345 | $345 |
| AAO Member 1-3 years out | $200 | $225 | $225 |
| Non-AAO Member Doctor | $425 | $450 | $450 |
| Full Time Faculty Member | $255 | $280 | $280 |
| Retired MASO Member | $200 | $225 | $225 |
| MASO Resident | $150 | $150 | $150 |
| Guest/ Staff | $220 | $245 | $245 |


The Middle Atlantic Society of Orthodontists (MASO) is an ADA CERP recognized provider approved by the American Association of Orthodontists. ADA CERP is a service of the American Dental Association to assist dental professionals in identifying quality providers of continuing dental education. ADA CERP does not approve or endorse individual courses or instructors, nor does it imply acceptance of credit hours by boards of dentistry. MASO designates this activity for up to 6.0 hours of continuing education (CE) credits.
It is the responsibility of individual attendees to submit any necessary continuing education credit documentation to their individual states for verification. Concerns or complaints about a CE provider may be directed to the provider or to the Commission for Continuing Education Provider Recognition at ADA.org/CERP.
CE MANAGEMENT THROUGH AAO MEMBER WEBSITE – Sign in on the AAO member website at https://www2.aaoinfo.org/login/ then navigate to the CE Manager by clicking Education > Practitioners > CE Manager. Next, click 'Add a Credit' then select the 'MASO Spring CE 2024' and individually select the session(s) to add.
Your sessions will be recorded and you can print a CE certificate for the meeting at your convenience during or after the meeting. CE credits can also be added after the meeting. For assistance with the AAO CE Manager, please contact AAO at 800-424-2841 or info@aaortho.org.
MASO does not review or approve of or necessarily agree with the topics, speakers and presentations set forth in this program. As such, by virtue of your attendance at this program, you acknowledge that any and all actions taken by you based upon such topics, speakers and presentations are undertaken at your own risk, and you further agree to hold MASO harmless from any and all liability in relation to the same. MASO encourages you to make your own independent judgment as to the topics, speakers and presentations and to rely on the advice of professionals, as appropriate, in making decisions in relations thereto.